Sold out
Rated 5.00 out of 5 based on

11

customer ratings
12

(reviews)
Women's lightweight waterproof jacket
Waterproof Tour
£149.00
***We have sold out of most of the Tours, last few remaining in Black, Olive, Storm Dark Grey and Night Sky Navy. ***
As versatile as it is elegant. From the city skyline to a blustery shoreline the adjustable oversized shape suits all. Luxurious in it's volume, the tour features an adjustable back belt mechanism to shape and flatter. Sleeves which can be rolled up to taste and weather, an ergonomically cut hood for fully coverage without restriction in view, deep security zip pockets. An aesthetic for urban adventures, and performance for countryside pursuits, this piece in our collection has no restriction in movement, setting, or season.
Waterproof Performance ratings; waterproof: 15,000 mm H2O, Breathable: 15,000 gm/m2.
High performance waterproof, wind resistant and breathable technology
Four-way stretch fabric for complete comfort and movement
Every seam sealed with a waterproof tape
Hood rolls down
Deep side pockets with zip enclosures to keep valuables safe
Sleeves can be rolled up
Soft, fluid fabric which offers both smartness and no noise in movement.
Crease free and easy care for rucksacks, car boots and simplified packing
Innovations in fabric technology have revolutionised waterproof outerwear for women moving performance from the rugged mountain side into a women's everyday wardrobe. Our feminine outer fabric has been laminated to a high performance microporous membrane which stops any water molecules passing through without restricting moisture. The result is a soft, fluid, feminine jacket with no noisy rustle in movement and waterproofing technology which travels with you everywhere you want to go without compromising on style or ever breaking a sweat.
Waterproof rating in excess 15,000mm
Breathable rating in excess 15,000mm/h20
All seams sealed
Water resistant coating to bead water off outer
Made from recycled yarns and manufactured by a team who work differently. We collaborate with our female owned boutique factory who specialise in slow manufacturing with one garment often made by one person from start to finish. Our fabric mill is Oekotex and blue sign certified and publicly declare their own carbon footprint, which they consistently strive to reduce. We can often be out of stock and it can be frustrating we know! but we prefer to work this way providing only what we need for our community and we always strive hard to get what our customers need whenever possible.
The Waterproof Tour is all about volume. It is full in the body with a belt at the back to cinch the waist in as needed. The sleeves have been created to turn up or rouche making the length adjustable. Whilst you may be able to fit into 2 of the 3 sizes, we'd recommend embracing the volume to get the most out of this style.  The model is 5ft 9 and a size 10 and is wearing a size 2. The size 2 is a comfortable fit on sizes 10,12 and 14. Any further help please don't hesitate to drop us a message at [email protected]
Free UK delivery & returns. Order by 12pm and your jacket will be with you within 48 hours when in stock
Free USA delivery & returns. your parcel will be sent via FEDEX and will take up to 5 days
Free Switzerland delivery & returns. your parcel will be sent via FEDEX and will take up to 4 days
Feel free to email us at

[email protected]

for any further delivery or returns information
Tour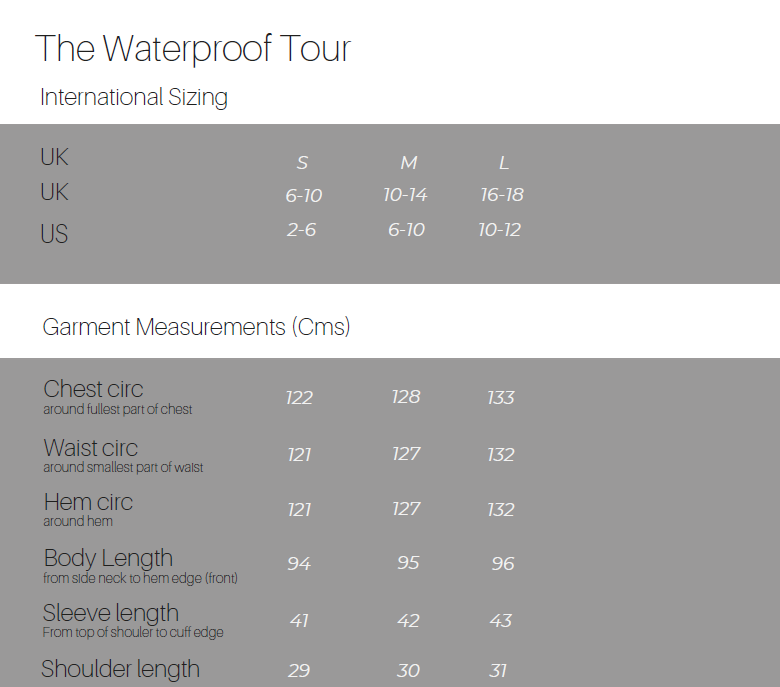 Janet T
Rated 5.00 out of 5 based on

3

customer ratings
My dream coat has arrived - the Tour in a beautiful blue and without a crease. I am a size 10 and 5ft 3in and the size 1 is the perfect relaxed fit without swamping me. It falls to my lower knee. The sleeves can be turned back without lining showing. The hood doesn't fall over my eyes and it isn't going to blow down in the wind. I have tried it with a t shirt and a bulky sweater and, because of the soft, fluid fabric, I feel stylish and comfortable both ways. Abigail answered all my questions promptly and delivery was super fast. I'm thrilled!
Verified Customer
Judith
Rated 5.00 out of 5 based on

3

customer ratings
Oh my word, what a beautiful coat. I have just received The Tour in black today and can't believe how gorgeous it is. The weight and the feel are just perfect and all the details of this amazing garment make it very luxurious. Didn't think I'd ever call a raincoat luxurious but this one definitely is. So looking forward to wearing this….and no I'm definitely not going to await for the rain
Verified Customer
Sue J (verified review)
Rated 5.00 out of 5 based on

3

customer ratings
LOVE IT. I am absolutely delighted with my coat. The quality of the coat is excellent. I have been searching for years for a coat with all these features. My coat is a perfect fit with plenty of room and no tight arms. The coat is light and can be packed for walking. Now I can go from car to shopping and travel with ease. Great that there are zipped pockets so nothing drops out.
Verified Customer
Judit
Rated 5.00 out of 5 based on

3

customer ratings
I am SO delighted that Pretected Species came out with this new design. I've had the Waterproof Parka for many years, which has been a great asset, but I always found it a little bit on the tight fitting side and not particularly flattering. The Tour really is a huge improvement, and for me the PERFECT raincoat. Which I am happy to throw on even when it's not raining, as it does not look like a raincoat at all ! It is so much more feminine than the Parka, and so much more stylish. I like the fact that it is roomier, longer, the collar with the concealed hood is much softer, less protruding and easier to wear. I also like the black lining for a black coat, I found the beige lining of my black Parka somewhat odd and not very attractive. Even the hanging loop is better, larger and elasticated, I had to change the original on the Parka as it was so tiny and not fit for purpose. So well done PS, please do more colours, as I am sure this coat will be your best seller !
Verified Customer
Bessie
Rated 5.00 out of 5 based on

3

customer ratings
This is one of the most stylish PS designs I've bought yet. It's such an incredible jacket and so happy it's come out in different colors. I'm so happy with this purchase.
Verified Customer
Paula
Rated 5.00 out of 5 based on

3

customer ratings
My most recent order has just arrived! I placed the order on Less than 48 hours ago! I now have the tour in each of the colours available. Love the Tour! Fabulous jacket And terrific customer service! *****
Verified Customer
Tracy
Rated 5.00 out of 5 based on

3

customer ratings
Luxurious rain coat, makes me want to dance when it rains ,wonderful service from ordering through to delivery . A very happy customer
Verified Customer
Elaine
Rated 5.00 out of 5 based on

3

customer ratings
I am so happy I bought this! I've had a black commuter for three years and it still looks brand new. I even get away with folding it up and stuff it in a backpack when I'm moving around at work and it survives in perfect shape. I got the Tour in olive and it's perfect as a roomier, longer style I can throw on with anything. This May it has rained practically every time I've even thought about stepping outside. It's so good to have rainwear that actually makes you want to go out in the rain whether you are heading out for a walk in the woods or to town for lunch.
Verified Customer
Paula McKenna-Walker
Rated 5.00 out of 5 based on

3

customer ratings
The Tour is stylish and so very comfortable and easy to wear. I love it and have worn it almost every day since I bought it! To coin a phrase from another review the Tour is beautifully fluid and looks great no matter how you wear it! Follow the washing instructions and it washes like a ribbon. I would love to see some other colours similar to some of the other PS styles, but even as the colour choices stand this jacket gets 5 stars from me.
Verified Customer
sara
Rated 5.00 out of 5 based on

3

customer ratings
Technically Sophisticated As it says inside the TOUR "technically sophisticated" and it really is ! as soon as you unwrap this beautiful garment this impression is confirmed - and enhanced - from whichever angle you look at it. It is extremely pleasing to have so many thoughtful design touches that actually work and enhance the look and shape of the TOUR. Fluid is a word that springs to mind too- I really recommend it and am looking forward to some new lighter spring colours as well - hopefully.
Verified Customer
Michelle Llewellyn-James
Rated 5.00 out of 5 based on

3

customer ratings
I already have the Commuter which I love but I wanted something that was longer and more roomy without compromising on style and the Tour nails this! I really like the versatility of the side studs and the back belt which you can tighten or loosen accordingly. I can fit layers underneath on cold days and roll up the hood when it's not raining. I've had lots of people ask me where I bought it and it's a perfect combination of practicality and style. Thank you! For reference I'm a busty size 12, 5ft 5 inches and bought the Medium.
Verified Customer
JAN LOVELL
Rated 5.00 out of 5 based on

3

customer ratings
This is my second item, I bought the classic mac about two years ago & it still looks like new , which encouraged me to treat myself to the TOUR. I am very happy with this coat, lovely fabric feel and of course wonderfully waterproof! I really like the side popper vents and the adjustable half belt and the back shoulder cape, they give the coat unique style. One bug is the non adjustable hood, it falls over my eyes and I have to fold it back. Is there a reason for this? It's so nice to purchase an item in such a personal way. I have had exchanges with Abigail on the way to to a perfect fit. This level of service put an extra shine on the an already shiny new coat.
Verified Customer