Founded by an all female team, the brand's reason for being from the outset was deeply rooted in creating beautiful solution based and truly functional weather protective outerwear for women, unlike anything in the market. It was outerwear they themselves wanted but couldn't find which drove their mission to spend 2 years developing what is now known as Protected Species. Discover where it all started and the manufacturing methods used to create the brands collections…..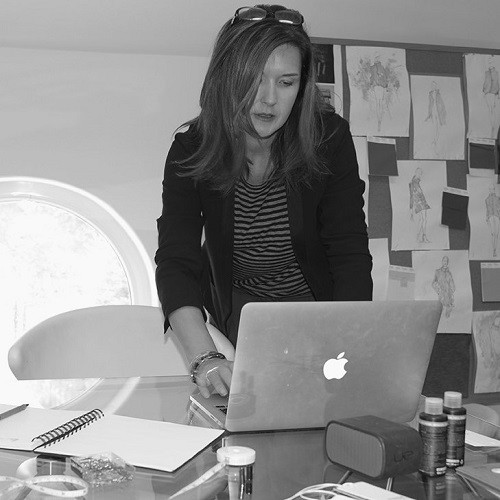 Protected Species founder and creative director Rebecca McElligott was born in the south east of England and has lived in various locations throughout the UK honing her skills in the technical performance clothing arena, and indulging in her love of the great outdoors.
Having grown up in the East Anglian countryside, Rebecca secured a place at the London College of Fashion to study clothing design and development and it was here that her fascination with the innovative side of functional clothing developed.
Graduating in 1999, Rebecca swapped the South for the North and moved to Manchester where she used her training working for global sportswear brands, ultimately creating high performance technical clothing for some of the top sports athletes in the world. Her days were filled exploring purposeful functional details, testing new fabric innovations, and enjoying extensive world travel, just some of the requirements needed to turn an idea on paper into a 3D wearable performance piece. Her work in the field was the precursor for the light bulb moment for a women's product which was so obviously missing in the performance clothing arena, and an essential wardrobe addition she herself desperately wanted but couldn't find.
"My life, as with most women I know, consists of juggling work, family and social commitments. One day I could be lucky enough to be hopping on a plane to get to a European city to attend a trade show, the next doing the daily commute to work, and at the weekend, if time allows, letting off steam in the hills of Snowdonia or the peak district. As a woman I was producing performance, solution based technical clothing which wasn't suitable in style, fabric feel, comfort or body fit to be desirable to me as a female. These pieces didn't assimilate with my existing wardrobe or my daily lifestyle needs, and therefore, severely limited the suitability of where I wanted to wear them".
And so the light bulb moment grew into an exciting concept and, after 2 years in the development stages, a high performance waterproof collection with a big difference was ready to be unleashed. Fabrics with waterproof performance ratings of over 15,000 mm, and breathability ratings over 15, 000 gm/m2 were crafted into tailored, timeless designs focussing on aspirational feminine shapes in soft, luxurious four-way stretch qualities. No noisy rustle in wear, no restriction in movement and with a fluid drape, a collection of high performance outerwear pieces which morphed seamlessly into a woman's everyday wardrobe and offered smart weather protection for all occasions, was born.,
Manufacturing methods: the factory
 Rebecca is keen to point out at this point that she, unfortunately, can't take all the credit. The boutique factory used to manufacture the Protected Species collection is owned by Carrie and you can feel the importance and respect Rebecca has for her and her close team in as an integral part of the brand.
"Her expertise and genuine understanding, knowledge and love for this collection sees us tirelessly working together to craft feminine shapes and trial new product features – it is a truly combined effort".
Her factory is small and dextrous and her team are highly skilled and consist largely of friends and family who live locally and have been expertly trained in all areas of the business. Each machinist is trained in every aspect of manufacture with one person often completing the entire make up of a jacket from start to finish – unusual in today's working practices. These harmonious conditions, and the quality it delivers is extremely important to the brand in doing things differently.
"it can be frustrating  to be out of stock of particular items when our customers are requesting these pieces, but we are proud of  our slow, considered processes, with each machinist engaged in producing high quality items engineered and assembled to stand the test of time by a  skilled team who enjoy what they do" 
Manufacturing methods: our fabric mill
The Mill, managed by Greta, produces the collections fabrics, and are Oeko tex certified which means every product is tested to ensure they are free from harmful chemicals and safe to wear. This mill is also blue sign certified which is a standard received after a rigorous assessment, by a european body, of the mill's complete supply chain. They test for hazardous chemicals and ensure strict adherence to stringent air, water and pollution control, and in addition to this, the fabric mill itself publicly declares their own carbon footprint
The relationship with the brand and their manufacturing base is deeply interlinked with all three women Rebecca, Carrie and Greta working closely together in delivering the vision. The production takes time and you can feel the brand's pride in creating limited collections which are the antithesis of fast fashion, slowly delivering seasonless and timeless performance pieces with the intention to become must have pieces. 
"We no longer live in a world where clothing can be worn for one season, or one activity and thrown away or discarded to the back of the wardrobe. Minimal, intelligent wardrobes simplifies choice, reduces waste and is one of the true approaches to sustainable living. It is so inspiring to hear from our customers who think in the same way as we do"