Born from the desire to feel liberated to go outdoors anywhere, whatever the weather, Protected Species creates beautiful high-performance weather protection for women who don't compromise on style.
As a team of women themselves, Protected Species evolved from their own desires for jackets that fitted into their lifestyle. They wanted a jacket suitable in both style and performance to see them through any occasion, no matter the weather conditions and, imperatively, blend seamlessly with their everyday wardrobe. A style-led protective performance jacket for everyday of the week – not just for hiking up hills.
Working within the industry making performance gear for the world's top athletes for other global brands, the team knew that all you could find was made simply for the outdoors but not for comfort or style. It didn't cater to the female figure. It wasn't designed to be worn in an urban setting as well as on a hike in the countryside. And, it didn't fuse the iconic, minimalistic designs they desired with free movement and waterproof technology.
The Protected Species concept has changed all that. Lightweight, luxurious pieces using an innovative fabric and full seam sealing techniques. This collection feels like waterproof gear you've never seen before – a new dimension to versatility in outerwear for women. Created from a need they themselves had, and a belief that other women would feel likewise they set about creating a collection which reflected a true fusion of practicality and style. This is their story.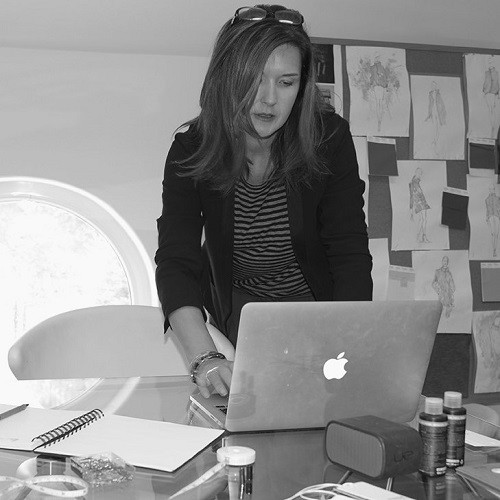 The founder: Rebecca McElligott
After studying clothing design at the London College of Fashion, Rebecca worked for global sports and performance brands across the UK, creating high-performance technical clothing for some of the top sports athletes in the world. Her days were filled with exploring purposeful functional details and testing new fabric innovations.  
"I was producing technical waterproof clothing collections but realised nothing I was making assimilated with my own lifestyle.  My world, as with most women I knew, consisted of juggling. Running between work, social, and family commitments always meant being outside through necessity or pleasure in all locations be it cities, towns, or whenever possible, strolling beaches and climbing hills. For me, an outdoor jacket needs to be versatile to blend into all of these backdrops as well as take on whatever the great British weather throws at us most times of the year "
Using her skills in the trade, it took two years to craft fabrics with the highest waterproof and breathability performance ratings into tailored, timeless designs. A collection of high performance outerwear pieces that morph seamlessly into a woman's everyday wardrobe was born. 
Manufacturing methods: the factory
The boutique factory used to manufacture the Protected Species collection is owned by Carrie. She and her close team are an integral part of Protected Species. Without her the brand wouldn't exist. Her expertise and genuine understanding, knowledge and love for this collection is essential as Rebecca and Carrie work tirelessly together to craft feminine shapes and trial new product features. Carrie's highly skilled team, which consists largely of friends and family who live locally to the factory, can complete the entire makeup of a jacket from start to finish – unusual in today's working practices and the quality this delivers is clearly visible. This quality and a happy working environment is extremely important to the brand. 
"We are proud of our slow, considered processes where each machinist engages in producing high-quality items using laser cut and heat welding technology. Our belief here at PS is that clothing should last longer, transcend fashions and seasons and work extremely hard. Our collection is engineered from design through to manufacture to stand out from the crowd and be the antithesis of fast fashion. This is what makes us tick".
Manufacturing methods: our fabric mill
The innovative mill producing the fabrics for Protected Species is managed by Greta and is Oekotex certified which means every product is tested to ensure it is free from harmful chemicals and safe to wear.  Her business is also blue sign certified – a standard received after a rigorous assessment of the mill's complete supply chain. They test for hazardous chemicals and ensure strict adherence to stringent air, water and pollution control. And, they go even further in their commitment for a greener future by publicly declaring their own carbon footprint. 
 "We no longer live in a world where clothing can be worn for one season and be thrown away the next. A minimal, intelligent wardrobe using modern innovations in fabric technologies can simplify life, reduces waste and support sustainable living".