After studying clothing design and production at the London College of Fashion, Rebecca worked for global sports and performance brands across the UK, creating high-performance technical clothing for some of the top sports athletes in the world.
"I'm an active person who loves getting outdoors in the countryside whenever I can but, for most of my week, I'm hopping off a train to get to a business meeting or a social event in the city and the weatherproof gear I had wasn't suitable for this. I needed one jacket with serious versatility (performance, comfort and aesthetic) for everywhere I wanted to go, whatever the outfit choice, and whatever the weather. I strongly felt other women, like me, needed the same thing.. and so the journey began".
MANUFACTURING DIFFERENTLY
It took two years to develop the  vision to craft fabrics with the highest waterproof and breathability performance ratings into tailored, timeless designs and it simply couldn't have been achieved without the right partners.
The boutique factory that manufactures the Protected Species collection is owned by Carrie and without her the brand wouldn't exist. Her expertise and genuine understanding, knowledge and love for this collection is essential as Rebecca and Carrie work tirelessly together to craft feminine shapes and trial new product features.
 "Carrie's highly skilled team consists largely of friends and family who live close to the factory, each of whom can complete the make up of a jacket from start to finish to an exquisite quality standard. This is unusual in today's working practices and the bespoke aspirational quality this delivers is both visible and long lasting". 
The collection is purposefully small. Each piece having a reason for being and produced only in small batches. 
"Our belief is that clothing should last a long time, transcend fashions and seasons and work extremely hard. Our collections are often low in stock, which we know can be frustrating! but, we're proud to be the antithesis of fast fashion. Doing what we do slowly, creating products which are desirable in both aesthetic and true purposeful function is what drives us as a brand".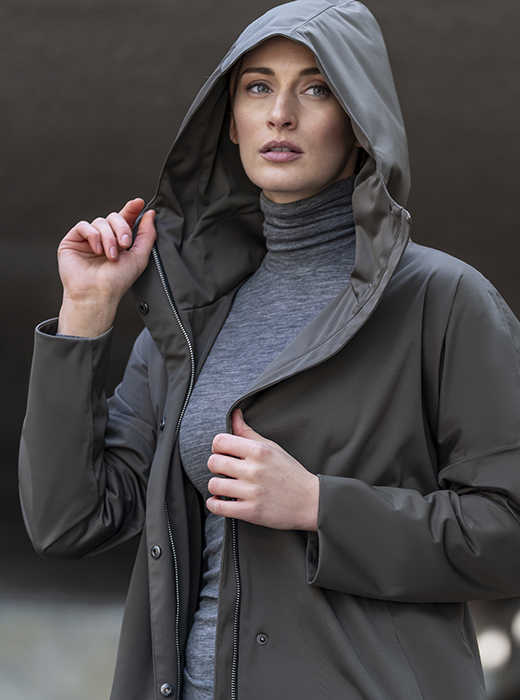 The innovative mill producing the fabrics for Protected Species is managed by Greta and is Oekotex certified which means every product is tested to ensure it is free from harmful chemicals and safe to wear.  Her business is also blue sign certified – a standard received after a rigorous assessment of the mill's complete supply chain. They test for hazardous chemicals and ensure strict adherence to stringent air, water and pollution control. 
And, they go even further in their commitment for a greener future by publicly declaring their own carbon footprint. 
"Our manufacturing partners are a part of the brand. The technology used to make a Protected Species is innovative, considered and precise. Without them we couldn't do what we do". 
Waterproof, windproof and breathable
Technical performance ratings
 – Waterproof ratings in excess of: 15,000mm – 
 – Breathability ratings in excess of:  15,000mm/h20 – 
 – Every seam sealed – 
 – 2 year waterproof guarantee – 
Contact us at: [email protected] to learn more about out technology.
Waterproof, windproof and breathable
Technical performance ratings
Waterproof ratings in excess of 15,000mm. Breathability ratings in excess of: 15,000mm/H20/24HR. All seams sealed with waterproof tape. 2 year waterproof guarantee