With its busy streets, medieval layout and hilly surroundings, Edinburgh really is best explored on foot. To get you started, here are five of the best walks you can do in the city, including free walking tours in Edinburgh, places to get your nature fix, and the best places for dog walks in Edinburgh too.
1. Leith Walk and Leith Water Walkway
Connecting Leith to Edinburgh, Leith Walk is the longest street in the city and offers a tram link between Leith and Edinburgh. While it's a street full of history and can be interesting to see the architecture, there is a much more relaxing walk that will take you from Leith to Edinburgh. The Water of Leith walkway is a 12-mile path that follows the river and offers a slice of nature a stone's throw from the hustle and bustle.
The whole route can take around 5 hours to complete, but the walkway can be used for shorter walks and to take you to different points of interest through a beautiful and peaceful footpath; ideal for families and is a useful dog walk-in Edinburgh too. Look out for otters, roe deer, kingfishers, and woodpeckers that call the river home.
2. Ghost Walks Edinburgh
Ghost walks are a firm favourite for people visiting Edinburgh, and there are several organisations that offer spooky ghost walks in the city. Explore the old town of Edinburgh and its many ghoulish stories involving witchcraft and restless spirits. Some tours will even take you to the Blair Street underground vaults, lit only by candlelight for added spooky atmosphere. 
Other tours will take you through the graveyards and share the stories of the famous names of Edinburgh, from Mary Queen of Scots to the cannibal of Canongate. Many of these walks are available as evening and late-night walks, so they're a fantastic way to see the city in a new way and increase your adrenaline as you learn about the ghosts, ghouls and dastardly tales tied to the city.
3. Arthur's Seat and Holyrood Park Walk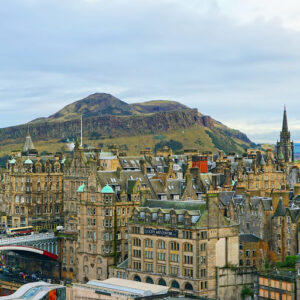 The iconic Arthur's Seat stands proudly at 251 metres above sea level. It offers stunning views of the city below. There is the main walkway up to the crags and Arthur's Seat, so it is easy to navigate when starting at Holyrood Park. Due to the steep incline and rocky crags, the walk can feel challenging, but the main route is just three miles and can offer a welcome breath of fresh air and challenge out of the city. 
Arthur's Seat is another dog-friendly walk with acres of grassland for pooches to enjoy and stretch their legs if they need a break from city exploring. Remember that at the top of Arthur's Seat, the weather can change rapidly; it's often windy with plenty of rain showers, so make sure to wear supportive footwear and bring a lightweight ladies waterproof parka with hood for every eventuality
4. Pentland Hills
If you need a break from the city, heading south of Edinburgh to Pentland Hills Regional Park brings you back into nature. Pentland Hills consists of five peaks, spanning 20 miles in length, but there is over 100km of trails suitable for different fitness levels, abilities and time available. 
Dogwalkers are welcome, but you can expect to find sheep grazing, horse riders, mountain bikers, golfers and even skiers at the Midlothian Snowsports Centre. That said, there are plenty of trails to explore, and some more challenging dog walks if you and your pup are up for them. 
5. Harry Potter Walking Tour Edinburgh
If you're with the kids, a great way to pass the time is to discover the place where Harry Potter began with a Harry Potter tour Edinburgh. The Potter Trail offers a free walking tour in Edinburgh, taking you to all of the favourite Harry Potter sights in the city. This is a fantastic way to see how and where inspiration struck the author, JK Rowling, while also exploring new aspects of this fascinating city. 
During a Harry Potter tour Edinburgh, you'll visit the café where JK Rowling wrote the first Harry Potter book, the real-life street that inspired Diagon Alley, where Lord Voldemort is buried and enjoy a Sorting ceremony to find out which house you belong to in the school of magic. 
The walking tour covers 1.5 miles and lasts up to 90 minutes, so it's a fantastic way to add a little magic and wizardry to your trip to Edinburgh.