We are proud at Protected Species to be supporting a more minimalistic way of living. We started the brand 6 years ago with the desire to create high performance rain wear that was stylish, smart, completely practical and essentially could be worn everywhere. Was minimalism at the forefront of our thoughts? I can't hand on heart say that it was. We knew there was a gap in the market for the product we visualized and we also knew the value of a product with a true function and not simply a pleasing garment which would be in this season and out the next. We have evolved our product as the years have gone by and happily our values and desire to do one thing very well sit with a certain amount of serendipity, when it comes to what is really now an essential way of living – making more of the things you have. The idea of owning key pieces that last and stand the test of time has always been valued in simplifying wardrobe choice but engineering features such as the stud fastening on the belt to ensure no loss of belt (and therefore wear) is imperative to how we engineer our pieces. A women's waterproof coat with a hood is essential, designed to be worn regardless for the weather – do we really need a number of different coats depending on what the forecast says or simply just one ladies' lightweight waterproof jacket with all the things required for every eventuality? Is an umbrella which only get's left on the bus really required or can we just throw our jacket on put the coat up it starts raining on a stroll out to the park with the dog?
As I said, we truly value our customer's feedback and love to hear from people.  We often get feedback about a desire for other colours and this is something which is difficult to deal with. High fashion colours are, in the main, transitory and directly contribute to the huge amount of waste in the fashion industry. So, whilst your favorite new top may be produced in a sustainable manner, some of what is produced will be thrown away as colours go in and out of fashion.  We know our customers want something that suits them but as a performance brand focusing on lightweight waterproof jackets specifically for women, creating classic cuts and flattering shapes is where we feel we have a real point of difference. We create colours which are very much in tune with nature and flatter any wardrobe outfit to ensure longevity and style.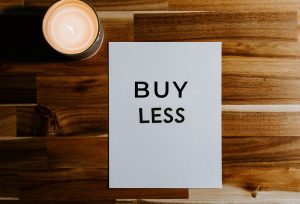 Minimalism is nothing new in the world of art and has become a aspirational thought process when thinking about architecture and interior design. The Scandinavian culture of simplicity really comes into it's own when creating beautiful cosy places which have a sense of clam through their lack of clutter. But perhaps in fashion terms it is starting to take on a different meaning. Minimalism is synonymous with restraint, less is more, and promoting qualities such as order and harmony.   Calvin Klein explained minimalism as a 'philosophy that involves an overall sense of balance, knowing when to take away, subtract'. I understand this from a design perspective, but was he perhaps also thinking about the planet when he said it at a time where balance of consumption needs to be re-evaluated in terms of what our future planet looks like?  Prioritizing reduction and function, using clean lines and strong iconic silhouettes which stand the test of time is something we aim to stick to here at Protected Species. Our collection of women's waterproof raincoats travels far and wide with our customers, we're often told that they never take them off. This is something we are proud of here at Protected Species, a small collection which does what it's supposed to do and continues to work for many years to come.