As the world around us seems to get a little crazier every day and simple to-do lists spiral wildly out of control, it makes sense that we're all craving a little simplicity. Your days are most likely filled making choices about a variety of things – from the mundane of what to feed the kids for breakfast to the essential decision of what pitches to give your client at the office – you're constantly having to put those critical thinking skills to work. From architecture to home décor to thinking about your wardrobe choices, most things in life are stronger, bolder, more stylish, and in environmental terms, frankly necessary when we do "stuff" with less. This is why many women are turning towards minimalist fashion as a way of streamlining one area of their lives. Instead of facing their closets with dread every day, wondering how to pull together a great look, women can choose from a few select-yet-fashionable outfits that can be transitioned through every part of their day.
What is minimalist fashion?
There are a few definitions of minimalist fashion. First, the term can encompass having a capsule wardrobe with a carefully curated selection of items. This means that you own just a few pieces in each category which can be mixed and matches with each other to offer different looks. Start with your categories: jeans, formal pants, sweaters, jerseys, dresses and skirts –  and be sure to get a good womens lightweight waterproof jacket which will co-ordinate with all categories. Choose the maximum of four shades which represent you and all go together, this will pull all your wardrobe categories together and allow you to cross outfits. Capsule wardrobes make it much easier to select an outfit every day, as your closet won't be bogged down with tons of items that you don't even wear but you're keeping around for, uh, nostalgia? (The 90's may be back in vogue but do crop tops and bell-bottom jeans still suit you?…) Plus, a similar colour scheme takes the guesswork out of figuring out which pieces go together.
Second, minimalist fashion can also refer to the specific style of clothes that you're wearing. Minimalist pieces are not fussy – but don't assume for a second that this means they're boring. These styles typically have sleek lines and straight silhouettes.. So, ruffles, frills, embroidering, and sparkle are the exception. However, minimalist fashion does not mean you're forced to look like a drama student in all black because the rest of your outfit will be understated, it actually makes it very easy to incorporate colour. Minimalist fashion also allows you to be a little more creative with shoes and accessories, so that your look never strays into dull territory.
What are some minimalist fashion trends?
Want to make sure you're getting started on the right path towards minimalism? There are several current trends that are versatile enough to fit every area of your life.
A suit and loafers

– That's right, the women's power suit is back! Toss out the image of stodgy, boring suits – the real winner today is an oversized blazer with either straight-leg pants or a trendier wide-leg option. Paired with comfy loafers, you'll look ready for business but still feel comfy enough to run errands after work.

Silk cami and wide-leg pants

– This look is great for a casual option that still works for drinks out with friends. Pair it with a sleek mule in a bright colour to add a little sparkle to your outfit or a trainer and

womens lightweight waterproof jacket with hood

(and leave the brolly behind!)

Oversized button-down shirt and jeans

– Although this might seem a tad basic, it's still the ultimate way to be comfortable in style. Have some fun with a white button-down which frankly goes with any of the current denim shapes and shades – high or low rise straight or Mom cut jeans in washed light, or deep indigo shades.

Sleek winter coat

– No wardrobe is complete without a

waterproof winter coat

. Choose options that have minimal zippers and buttons with a more basic, sleek cut so that you can pair your coat with any outfit without it overpowering your whole look.

Monochromatic skirt and top

– Following one colour theme in your outfit can help you look more polished. A long silk skirt with the same colour blouse creates a minimalist outfit that still provides a touch of glam.
The beauty of minimalist fashion is that there's a lot of room for you to mix and match pieces to find what works best for your individual style. This adaptability means you won't ever feel locked into a certain style if it doesn't fit your personal vibe.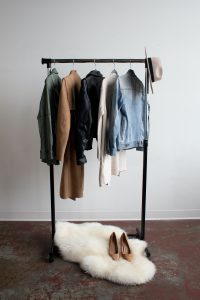 Does minimalism help the environment?
Minimalism definitely equals less waste! If you can get in the habit of curating a capsule wardrobe, you can train yourself to stop purchasing items you might only wear once or twice (or never – velour tracksuit I'm talking to you). Minimalism encourages you to eliminate clothes that don't serve you (such as uncomfortable, ill-fitting, or out-of-date items). Just the act of decluttering your closet can help you donate items that you don't want and help you better visualise which of your items belong in the must-have pile. Most of us are guilty of having bought clothes that we hardly end up wearing. Given the chance to streamline your wardrobe with a minimalist approach, you can make better choices about future purchases – which in turn can help you focus more on buying more ethical or fair-trade items. Making this change to your purchases can result in you buying items that are better quality and are made with less waste.Bottom line: being a minimalist makes you greener.
Will minimalist fashion go out of style?
It's unlikely that minimalist fashion will leave anytime soon. Its longevity is due to its simplicity. There will never be a time when women don't want their clothes to be beautiful or to give off an air of distilled elegance. It's also unlikely that there will come a time when women have huge amounts of time to dedicate solely to their clothes. As women continue to rule both the home and the boardroom, they'll always be a need to make the process of picking out clothes quick and easy. Instead of rummaging through 20 tops that you're not in love with (and that don't go with anything else you own), you now have fewer pieces to sort through but all of which make you look great!
Fashion trends come and go, but looking as if you're on top of things will never be passé. Choose the straight-forward process of keeping only the items you absolutely love that fit into your capsule wardrobe and then follow a minimalist aesthetic with a selection of items that fit within the same palette. Getting ready in the morning will be a snap – you'll look fashion-forward without having to spend hours agonising over what to wear. Simplicity and minimalism is now the name of the game for anyone who wants to be comfortable while still looking modern and elegant.