With a rich history, iconic architecture, stunning natural beauty and a bustling cultural scene, Edinburgh is one of my favourite mini-breaks. Formed on a 700 million-year-old volcano, on which the castle now sits, Edinburgh really is a place that captures the imagination and always delivers something new whenever you visit.
Best Places to Visit in Edinburgh
Edinburgh Castle
Delve deep into Scotland's history using an audio guide and visit some iconic items from Scottish history, including the One o'Clock Gun, the Stone of Destiny and the Honours of Scotland. Due to its location, you can enjoy panoramic views of the city too.
Arthur's Seat
After a hearty breakfast in the city, climbing Arthur's Seat is an invigorating challenge which rewards you with amazing views across Edinburgh and beyond. The inactive volcano rises 251m above sea level for far-reaching views below. The site is also home to medieval chapel remains. Arthur's Seat has trails accessible for wheelchairs and buggies.
Calton Hill
For early birds in Edinburgh, a fantastic place to visit is Calton Hill for the sunrise over the city. Even if sunrise is too early, the UNESCO site is well worth a visit to see the National Monument, City Observatory and Nelson's Monument.
Top Edinburgh Hotels
Prestonfield House – Ideal for Couples
Prestonfield House offers extensive gardens and parkland while only a five-minute walk from the city for a romantic and luxurious retreat in the city. The rooms are filled with antique furnishings and traditional style for a cosy, historic stay.
Motel One Edinburgh – Ideal for Dog-Friendly Stays
Costing just £5 extra to bring your pup, Motel One is great for dog-friendly stays being a stone's throw away from Princes Street Garden. Set in the old town, this hotel is close to many attractions, from the Royal Mile to David's Tower. For a more luxurious dog-friendly stay, The Balmoral is a five-star spa resort complete with a Michelin-starred restaurant. For an additional £50 per night, dogs at the Balmoral can stay and receive a doggy gift pack with a bed, treats and a water bowl! So chuck on your dog walking jacket and discover the streets of Edinburgh with your best pal in tow.
The Roseate – Ideal for Families and Young Children
Set in Murrayfield than the city centre, The Roseate offers tranquillity during a busy city break. The Roseate is a stylish and beautifully equipped hotel, but cots and children's menus are standard. The location is ideal for a walk to Edinburgh Zoo, calming river walks, and it is close to the Haymarket station too.
The Sheraton Edinburgh
Overlooking Edinburgh Castle, the Sheraton edinburgh Grand Hotel & Spa is located in the financial district, next to the West End business and entertainment area and a five-minute walk from Princes Street (550 yards from Edinburgh Castle). Compete with a unique and recently renovated Thermal Suite and rooftop Hydropool, this spa, pool and relaxation centre is known as Escape at One and can be enjoyed at preferential rates by hotel customers.
Dining in Edinburgh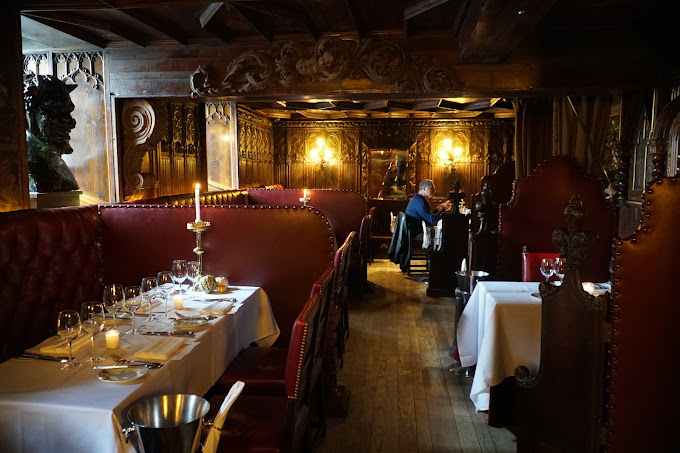 The Witchery Edinburgh
The witchery Edinburgh is the first on the list when searching for best restaurants Edinburgh and for good reason. The place is groaning with atmosphere and if it's history you are after, This Edingburgh hotel and restaurant occupies a 16th century building and has been in occupation for over four centuries. Choose from the original dining room or the secret garden dining room where dinner, afternoon tea or lunch are served. Scottish lobster, langoustines, beef lamb, game and Scottish haggis are served alongside vegetarian and vegan options covering most peoples culinary desires. Hotel rooms are not on the cheap side but head over to thewitchery.com to see options and availability.
The Kitchen Edinburgh
In the kitchen Edinburgh Tom Kitchen uses French techniques on Scottish produce and serves them in a refined, chic converted whisky warehouse. The food and ambience is exceptional and was awarded a Mitchellin star within 6 months of opening. Edinburgh dining has developed a high standard of venues oand choices but this restaurant, set slightly outside the city in the beautiful harbour area of Leith, is one of the cities finest. Head over to kitchin.com to view the extensive menu and wet your taste buds.
What to Pack for a Trip to Edinburgh
Edinburgh is a beautiful city, but being set on ancient volcanic land means it is always a steep walk. Packing comfortable walking shoes is a must-have for the city; it may be wise to pack muscle gel to pamper your legs after a busy day of exploring.
The weather in Edinburgh is unpredictable. From bright sunshine to total downpours within minutes, so do be sure to drop into your suitacase a mens or womens lightweight waterproof jacket for any unexpected weather. Finally, don't forget to pack a camera to capture your memories and leave plenty of room in your luggage for souvenirs and treats – Edinburgh Gin, a bottle of Malt Scotch whisky, cashmere scarves or tartan umbrellas are great mementoes of your trip.