If you're planning a vacation to Ireland soon, let us provide some motivation. After all, it is one of Europe's most beautiful countries. It also has several historic sites that are not found anywhere else. Ireland's lush green landscape, gorgeous castles, historic monuments, and picturesque lakes are just a few of the features that distinguish it and make it so appealing.
Whether you're traveling for business or pleasure, your hotel accommodation definitely makes or breaks your entire vacation. Beautiful views of windswept beaches and quirky wooden bars with log fires beats staring out at the back of a four-story car park any day of the year! 
Although one person's creature comforts may be different to others, when you get a really stunning or atmospheric place to stay most of us agree that we'd go back in a heartbeat. 
In this guide, we'll show you our picks for the greatest locations to stay in Ireland, with a special emphasis on those with breathtaking vistas. Dive right in!
1. Dunboyne Castle Hotel & Spa
The Dunboyne Castle Hotel & Spa is set in 21 acres of lush green Meath countryside. It is roughly about 18 kilometers from Dublin City Centre and only about 20 kilometers from Dublin Airport. With 145 spacious and pleasant rooms, including two excellent Junior Suites and the spectacular Presidential Suite on the hotel's top level.
The polished and dazzling diamond of a spa at Dunboyne Castle Hotel is called Seoid, which means jewel in Irish. In this stunning spa, you may rest in the crystal steam room, smell the scents of the herb sauna and relax in the heat of the laconium, have a mud treatment in the wonderfully tiled Rasul, or enjoy the fresh cold air from the comfort of the warm bubbles of the outdoor hot tub.
This hotel with its state-of-the-art facilities, handsomely renovated Georgian architecture, and luxurious Seoid Spa, is located in the heart of Ireland's heritage capital and serves as an unrivaled base from where you can explore the nearby sites of Trim Castle, the Hill of Tara, or majestic Newgrange and the Br na Bóinne UNESCO World Heritage Site.
Dunboyne Castle Hotel & Spa offers contemporary luxury and elegant design in the heart of Meath's historic district.
2. Kinsale Hotel & Spa
This luxury hotel in Kinsale is located in an ideal location near Cork City, in a serene and tranquil environment. The property is surrounded in 90 acres of beautiful forested parkland and offers magnificent views over Oysterhaven Bay.
The Kinsale Hotel & Spa offers a variety of modern accommodations along Kinsale's rough shoreline. The hotel provides a calm refuge on the coast, located less than 25 minutes from Cork Airport and only a 5-minute drive from the ancient, coastal town of Kinsale.
The Kinsale hotel & spa in Cork is the ideal place for your next short break or active trip, with its Rockpool Bar & Restaurant, 71 guestrooms, and luxury spa. This hotel is especially geared up for conference and wedding gatherings for up to 240 guests, thanks to the variety of event suites.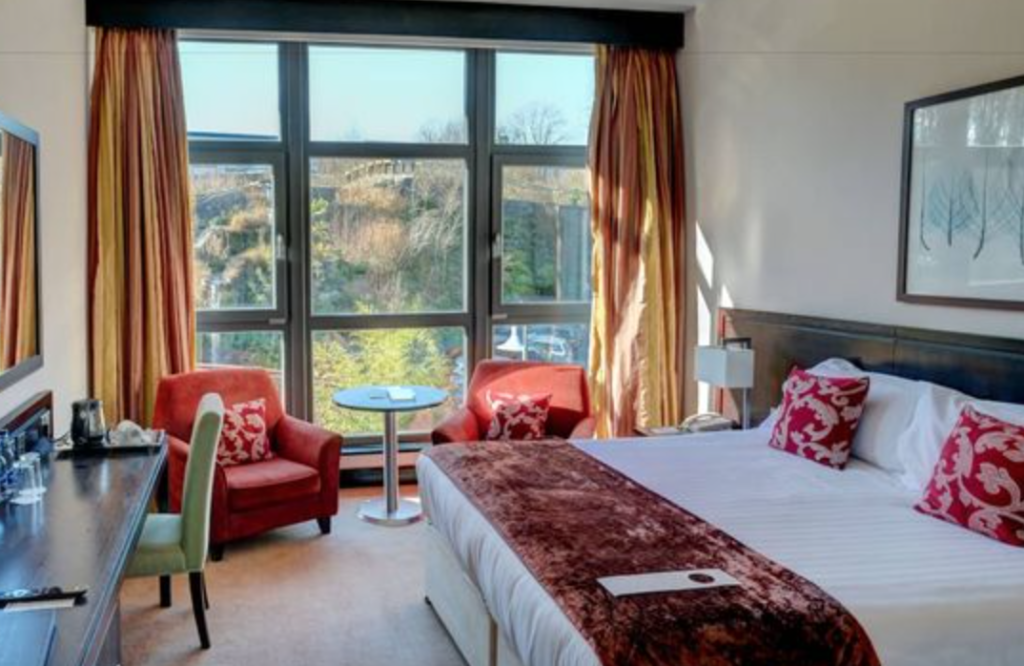 3. Killarney Plaza Hotel & Spa
 This hotel is a perfect home base for exploring Killarney since it is only a short stroll from the Killarney Railway Station. Additionally, a Jacuzzi, free Wi-Fi, and an indoor pool are provided.
At the hotel's Sundari Spa, which has a sauna, guests may relax with a range of spa services. Express check-in/check-out and a luggage storage facility are two convenient options.
The 198 rooms of the Killarney Plaza Hotel & Spa are outfitted with everything you need for a comfortable stay.
Restaurant Petrus, the hotel's in-house eatery, is a well-liked spot to eat. Champers Piano Bar or Plaza Bar & Grill both provide a wide variety of cocktails for patrons to choose from. There are other food alternatives nearby.
Kerry Airport is only a 20-minute drive from Killarney Plaza Hotel & Spa, and St Mary's Cathedral is only a short stroll away. The hotel is close to a number of neighborhood cafes and eateries so if you do want to stretch your feet and try a restaurant outside the hotel then this is just a short hop away.
4. g Hotel & Spa
Philip Treacy, a well-known hat designer, created the 5 star g Hotel & Spa in Galway. Featuring 101 freshly furnished air-conditioned rooms and suites, an opulent spa created by ESPA, the acclaimed restaurant gigi's, which is influenced by Irish ingredients, three signature lounges, and parking. 
The conference and event venue, which is only two hours from Dublin International Airport and 15 minutes by foot from Galway City Center, can accommodate 300 attendees with the help of 5 extra breakout rooms.
At ESPA at the g, visitors may isolate themselves from the outer world and have a well-earned spa getaway. ESPA, renowned experts in spa architecture and award-winning products, created the overall idea for their five-star ESPA at the g. The spa at the hotel is located on the top two floors and exudes timeless modern elegance. For utmost comfort and luxury, you should definitely visit the g Hotel & Spa. 
5. Galmont Hotel & Spa, Galway
The Galmont provides contemporary lodging with views of Galway Bay, the jagged karst curves of the Burren, and the sea entrance of Lough Atalia. Visitors flock here for the posh four-star surroundings, comfort, and luxurious touches—all within walking distance of Galway's bustling, culturally active city.
At the opulent four-star The Galmont Hotel & Spa Galway, you are assured the best of everything. Beautiful views of Galway Bay, a luxurious hotel in the heart of the city, delectable cuisine, a top-notch spirit one spa, Energize Fitness & Leisure, a great conference and meeting space, and beautiful wedding services are all available. Utilize some of Galway's fantastic retail alleys to make it simple to see the region's top sights and squeeze in some shopping along the way!
6. Aghadoe Heights Hotel & Spa
The five-star Aghadoe Heights Hotel & Spa is beautifully situated on the Killarney Lakes in the Aghadoe neighborhood of Killarney, 5.4 kilometers from the town center. It is the perfect location for a spa/relax, golf/sports, romance/honeymoon, gourmet, opulent, rural, mountainous, and wildlife/nature vacation. The closest Kerry Airport is located 11.7 kilometers from the accommodation.
In addition to offering 5-star accommodation, Agda Heights hotel & spa also offers food of this caliber. The Lake Rum restaurant is well-known across the region and draws both residents and visitors from around the globe. With a breathtaking view of the lake, the cuisine provides elegant dining. A very big translucent wine cellar is located in the restaurant's center. There is also a lengthy and excellent wine choice available.
7. Radisson Blu Hotel & Spa Limerick
This lovely lodging is a tranquil retreat only a short drive from the Limerick City Center, nestled within 20 acres of parks. The hotel's attractiveness is further increased by its closeness to Shannon Airport, which makes your stay as convenient as it is comfortable.
The Cliffs of Moher, King John's Castle, Bunratty Castle, and Ireland's most visited tourist destination are all close to the hotel.
Some of Ireland's best links and parkland courses, including Ballybunion, Doonbeg, Adare Manor, and Tralee, are all within easy driving distance for golf enthusiasts.
The Radisson Blu Hotel & Spa also has several large interconnecting and family rooms, recreation center, gardens, and outdoor play areas making it the perfect place to stay if you are visiting with the entire tribe.
It's difficult to choose as Ireland has so many beautiful hotels, and you really will get a "long lost friend" welcome on your arrival in this part of the world.  Hotels in Ireland offering charisma, excellent food and interesting architecture are a plenty but, if you're in the area, you won't go far wrong with any of the above.