Craving some sense of achievement, I recently decided to finish the Norfolk Coastal Path. I can't pretend this was a challenge – the sort you need to train for, do lengthy preparation for or buy specialist equipment for – but it was just something that I had started but never finished.
It's a 47 mile walk between Hunstanton and Cromer along the north Norfolk coastline and it can be done in sections determined by stops on the North Norfolk Coast hopper bus service. The buses run reliably every 30 minutes along the coast road. If you get the online timetable, you can plan your walk using the places it stops at as markers for each section
https://www.experiencenorfolk.uk/ride-the-norfolk-coasthopper-bus/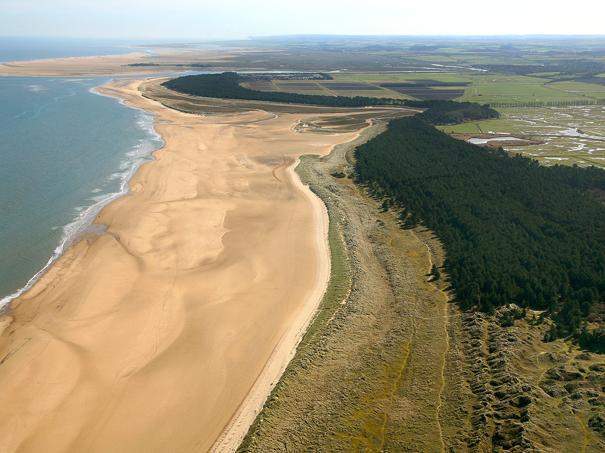 North Holkham beach
What to take
The path is well marked and you don't need a map but I like to take a map for unplanned detours and also when you are having your well-earned reward at the end of your day's walk you can see exactly what you have done!
Serious walking footwear is also not strictly necessary as the path doesn't present you with tricky terrain. The shingle parts do take some toll but I don't think high tech footwear makes a difference. I did wear my Mendl walking shoes bought recently having actually had my feet measured. If you haven't had your feet measured since secondary school, do it! – the resulting advice makes an incredible difference.
The weather forecast on my completion leg was for the notorious north wind to be doing its thing across that flat uninterrupted landscape. The forecast wasn't for rain but I thought that I'd take my Waterproof Parka to test for wind protection. It is quite difficult to find good womens waterproof coats with hoods, but make sure you do take a jacket with an integrated hood which can be secured to your head with draw cord adjusters – umbrellas are no match for the easterly winds on this stretch of coastline! Our Protected Species collection includes a fully waterproof parka for women which features deep security zipped pockets and a three-way adjustable hood which shapes and, crucially, secures safely to head in windy conditions. Hoods without security mechanisms is like an umbrella without spokes…completely useless! The Protected Species ladies lightweight waterproof jacket collection offers a range of cuts, colours and sizes to suit most.
Add a lightweight Puffa jacket to your backpack and you're covered with whatever the weather may throw at you.. rain, hail, wind or snow and with all your outerwear being lightweight and packable they're easy travel companions
Where to eat
So running West to East I can recommend:
The Lifeboat Inn, Thornham, it is directly on the path.
The White Horse at Brancaster Staithe has fantastic views across the marsh and you can't miss it as the path runs along the bottom of the car park. It's great for a quick tapas style lunch.
Wells-next-the-sea is well known for its Fish & Chips on the quay. The queues can be daunting but don't be fooled into picking the shortest one…that's all I'll say. A short wander off the path up the high street you will not only pass tea, coffee and cake you will come to Buttlands Green and The Crown and The Globe – both worth a visit. This is also where the buses stop (note you may have to change here if travelling through Wells on the bus).
At Stiffkey, if you want sustenance, you will have to come off the coastal path, but only a mile or so, to the Red Lion where you can again have a light lunch. They serve food from 12 until 2.30.
At Morston, there is a National Trust refreshment kiosk where you can buy tea/coffee and sausage rolls/cakes. Along this walk you will pass Blakeney Point, Brancaster Beach, Morston Quay, Brancaster Staithe Harbour, Stiffkey Saltmarshes: they are all owned by the National Trust.
Blakeney is directly on the path too. The beautiful Blakeney Hotel is, well, hotel- like but don't rule out for an evening meal, more expensive than a pub but the setting is stunning and the service fantastic offering fantastic value for money. Booking is necessary www.blakeney-hotel.co.uk
Whilst not on the path, a visit to the quirky Café at Wiveton Hall, the subject of the 2017 Normal for Norfolk documentary, is definitely worthwhile. Open from around Mothering Sunday onwards, you can access the farm by walking along a permissive path on National trust land just beyond the Blakeney Manor Hotel. Plenty of tables outside with a beautiful view out to sea, it does get busy so if you definitely need it as a pit stop for lunch then book may be worthwhile www.wivetonhall.co.uk
The Blakeney hotel at sunet
As you approach Cley-next-the-Sea, you will see the iconic view of the windmill, used in one of the BBC hot air balloon trailers some years ago. In Cley there is The George and slightly off the path on the Holt road is the Three Swallows pub next to the stunning St Margaret's Church. The pub and a visit to the church are worth the slight detour if not saving your feet purely for the Coastal Path.
From Cley westwards stopping places on or near the path are scarce so you need to take sustenance. You are onto shingle, so whilst the flatness remains, this feels more of a challenge. Take food from here if you are going to be walking through a meal time. There is a delicatessen in Cley called Picnic Fayre – you can't miss it is in the centre of Cley next to the bus stop.
Cley-next-the-sea
At Weybourne you would have to come off the path to get to BunTeas tearoom or the The Ship but on this part you feel the need to keep going as coming off the shingle quite a way may mean you are reluctant to get back on it. Of course you could make this a stopping point and get the bus back to base from here.
Sheringham is the next town you get to, you come off the flat and climb a hill to walk along the cliff edge, next to the golf course. Again you could reward yourself with fish and chips on the beach here. There are four fish and chip shops just off the path.
From Sheringham to Cromer we are into pure walking territory – take refreshment and the knowledge you will have that sense of achievement when you get to Cromer.
Where to stay and mileages
There are lots of place to stay in North Norfolk but here are some close to the coastal path.
Victoria Inn, Holkham
https://www.holkham.co.uk/stay-eat/the-victoria-inn/welcome
This is owned by the Holkham estate and has been described as having a 'Downton' atmosphere. A short walk down Lady Anne's drive and you are on the path and on one of the most spectacular beaches in Norfolk – Holkham beach.
Red Lion, Stiffkey
The rooms here are purpose built and outside the pub – they have eco-friendly features such as a roof that helps insulate rooms and use rain water for flushing the loo. It is perfect for taking a dog as ground floor rooms have their own patio area.
Manor Hotel, Blakeney
http://www.blakeneymanor.co.uk/
Slightly dated but very spacious, friendly and a good place to lay your head. The location is perfect – you are in the heart of Blakeney looking out to sea and directly on the coastal path.
The Pheasant, Weybourne
https://www.pheasanthotelnorfolk.co.uk/
4 star hotel a little way off the path but remote and luxurious
White Horse, Brancaster
https://www.whitehorsebrancaster.co.uk/
As mentioned before – you couldn't be closer to the path.
The good thing about this walk is that you can start and stop in any number of places. Here is some idea of mileages
Hunstanton to Thornham 5.9 miles
Thornham to Burnham Deepdale 6.1 miles
Burnham to Holkham 7.7 miles
Holkham to Stiffkey 6 miles
Stiffkey to Cley-next-the-sea 7 miles
Cley-next-the-sea to Weybourne 5.6 miles
Weybourne to Cromer 8.6 miles
Now I have to come clean, the path used to finish at Cromer so in honesty this is where I have walked to. As part of the England Coast Path plan, it was extended to Sea Palling and more recently Hopton-on-Sea. For those wanting to feel they have achieved something then I am happy to agree that the end is Cromer and we can all feel good about ourselves. I've done the Norfolk Coastal Path and I have done the ironing.